Welcome to the Alpine Trails LLC website!
Alpine Trails is a fee-based land access program operated on privately owned forest land. A unique characteristic of this working forest is the ever-growing population of the subdivisions that surround it. This fact creates various challenges to managing for timber, which makes it all the more important to develop a community of forest stewards that help maintain a healthy human-to-forest relationship. We invite you to become a partner in this relationship!
Located in Washington State, straddling the Kitsap and Pierce County line. This 4500 acres of forest land is close to the Port Orchard and Gig Harbor communities.
The widespread sandy-gravel soil that reduces the rate of tree growth is good for one thing – 4 season trail riding. There are exceptions of course, and we ask that you avoid flooded and muddy trails and roads. Traffic in these areas when flooded only makes the ponding deeper.
The rolling terrain makes for a comfortable ride, run or walk; rather than simply climbing up a mountain, then turning around to descend. A beautiful mix of variable timber sizes interlaced with dozens of small and large a water bodies that provide great wildlife viewing opportunities. A place to have dogs off leash where they can actually explore something more than a fenced grass and wood chip plot.
Experience 4500 acres of hiking, biking and horseback riding trails. You will experience well defined trails and beautiful forest land as you ride or hike through these private property trails on the Kitsap Peninsula of western Washington.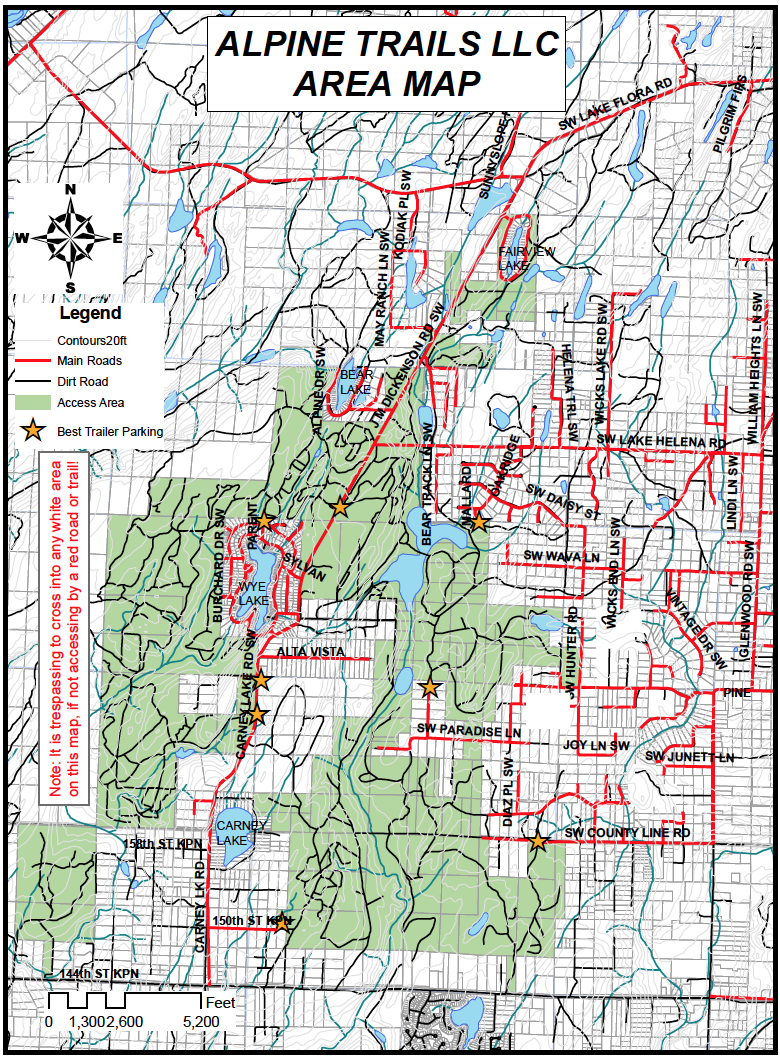 Two roads diverged in a wood and I took the one less traveled by, and that has made all the difference
– Robert Frost
ACCESS
All trails are accessible for passholders only. This is private property and a Land Use Application is required to have a pass issued to those wishing to use the trails. (Click to download Application) or click here to purchase pass and agree to Land Use Agreement.
Land Use Pass Type:
Individual: $50 per person 1-year / $130 per person 3-year
Family: $100 per family 1-year / $260 per family 3-year
Children under 18 are complementary with paid family pass. Once family members are adults (18+), they must purchase individual passes

Exploring the trails is encouraged for those looking for hiking, biking and equestrian use. No motorized vehicles are allowed.
Trail maps are available in .pdf format or check out Maprika App for your mobile device.
Apply online or request application: info@alpinetrailsllc.com
<!-- Begin MailChimp Signup Form --> <link href="//cdn-images.mailchimp.com/embedcode/slim-10_7.css" rel="stylesheet" type="text/css"> <style type="text/css"> #mc_embed_signup{background:#fff; clear:center; font:14px Helvetica,Arial,sans-serif; width:250px;} /* Add your own MailChimp form style overrides in your site stylesheet or in this style block. We recommend moving this block and the preceding CSS link to the HEAD of your HTML file. */ </style> <div id="mc_embed_signup"> <form action="//facebook.us14.list-manage.com/subscribe/post?u=89a76999ac1d4d84d678e4dfb&id=f16c96e69c" method="post" id="mc-embedded-subscribe-form" name="mc-embedded-subscribe-form" class="validate" target="_blank" novalidate> <div id="mc_embed_signup_scroll"> <label for="mce-EMAIL">Subscribe to our Passholder News</label> <input type="email" value="" name="EMAIL" class="email" id="mce-EMAIL" placeholder="email address" required> <!-- real people should not fill this in and expect good things - do not remove this or risk form bot signups--> <div style="position: absolute; left: -5000px;" aria-hidden="true"><input type="text" name="b_89a76999ac1d4d84d678e4dfb_f16c96e69c" tabindex="-1" value=""></div> <div class="clear"><input type="submit" value="Subscribe" name="subscribe" id="mc-embedded-subscribe" class="button"></div> </div> </form> </div> <!--End mc_embed_signup-->